Hardness Tester
HBRVS-187.5 Digital Brinell Rockwell Vickers Hardness Tester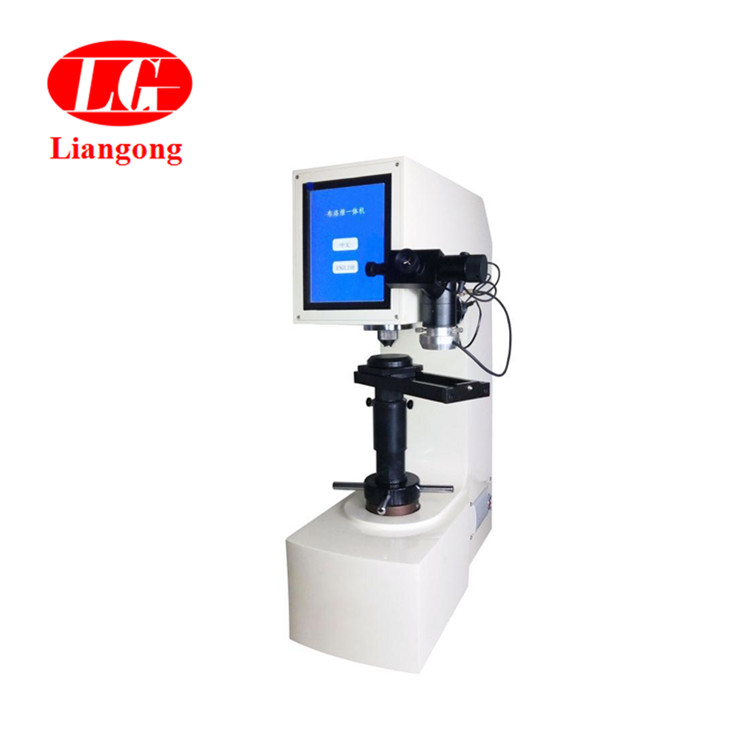 Characteristics:
HBRVS-187.5 Digital Brinell Rockwell Vickers Hardness Tester has novel appearance, complete functions, convenient operation, clear and intuitive display, and stable performance. It is a high-tech product integrating light, machine and electricity, and can be used in Brinell, Rockwell, Vickers three methods test, multi-functions hardness tester with multi-level test force, can meet a variety of hardness testing needs.
1. Using 8-inch touch screen and high-speed ARM processor, intuitive display, friendly human-computer interaction, and easy operation;
2. The fuselage is made of high-quality cast iron by one-time casting, and the car paint treatment process is used to make the appearance round and beautiful;
3. The measuring device adopts a grating displacement sensor, which displays the results through the LCD screen, and can display and set the test scale, test force, indenter type, holding time, conversion unit, etc.;
4. It has three test methods of Brinell, Rockwell and Vickers, and multi-level test force, which can meet various hardness test requirements;
5. The electronic closed-loop control applies the test force, which fully realizes the automatic operation of automatic loading, holding and unloading of the test force;
6. The combination of high-definition measurement and observation objective lens, combined with the high-definition micrometer eyepiece with built-in length encoder, realizes one-key measurement of indentation diagonal, which greatly reduces human operation interference and reading errors;
7. The built-in test software can modify the hardness value of the machine;
8. Convenient control system, which can automatically convert the unit of the full hardness scale;
9. Built-in printer, and can output data through RS232 port.
Technical parameters
Initial test force

98.07N (10kgf)

Total test force

Rockwell: 60, 100, 150Kgf (588, 980, 1471N)

Brinell: 15.625, 31.25, 62.5, 125, 187.5Kgf (153.2, 306.5, 612.9, 1226, 1839N)

Vickers: 5, 10, 20, 30, 50, 100Kgf (49.03, 98.07, 196.1, 294.2, 490.3, 980.7N)

Scale range

Rockwell: HRA, HRB, HRC, HRD, HRF, HRG

Brinell:HBW2.5/15.625,HBW2.5/31.25,HBW2.5/62.5,HBW5/125,HBW2.5/187.5

Vickers: HV5, HV10, HV20, HV30, HV50, HV100

Measuring range

Rockwell: 20-95HRA, 10-100HRBW, 20-70HRC

Brinell: 5-650HBW

Vickers: 5-3000HV

Lens magnification

100X, 50X, 25X

Appearance size and power

Distance between indenter center and wall: 160mm;

Maximum allowable height of specimen: Rockwell 200mm, Brinell Vickers 180mm

Dimensions: 550*290*780mm;

Power: AC220V / 50Hz;

Weight: 80Kg.