Computer Control Cupping Tester
GBW-60B Compute Control Cupping Testing Machine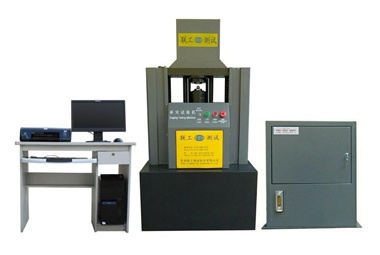 ★ Usage and Characteristics
The cupping testing machine is specially used to test extensibility of metal thin sheet and banded material and is also only instrument to test the metal's plastic deformation. The machine fully accords with National Standard GB4156-84. If add drawing mould, it also accords with international GB5125-85for testing the characteristics of non-ferrous metal sheets.
★ Main technical parameters
■ Maximum test force: 60KN
■ Range of test force: 0.2KN~60KN
■ Test accuracy: precision of cupping value±0.01mm
■ Speed of test: 2~100mm/min (Under control of arbitrary rate and constant speed)
■ Cupping mould: Φ20±0.05
■ Thickness of gripping specimen: 0.05~2mm (High-precision sensor can realize ultra-thin sheet metal test)
Special order: ①Non-standard cupping: 0.05~3mm ②Testing non-ferrous metal sheets: 0.1~2mm
■ Journey of punch: 40mm
■ Journey of cramping piston: 40mm
■ Max. gripping load: 10KN
■ Resolution of cupping value: 0.01mm
■ Hydraulic oil: N46
■ Dimensions: 700×360×1320 (mm)
■ Power: ~380V 50Hz 3kW
★ Advantages
1. The machine is a new generation of products which is developed with our company's years of experience in manufacture based on original type (GBS-60A). Its main characteristic is that the precision of cupping value can be up to 0.01mm and load speed of main test force is controlled through constant rate.
2. In terms of operation, GBW-60B type achieve historic breakthrough. On the basis of original oil cylinder and manual supply oil valve to add force, we adopt imported servo motor as power to make the whole testing process come true close-loop control and constant rate loading to improve the control accuracy of the machine greatly.
3. Changing manual hydraulic loading to electronic control mechanical loading and hydraulic sensor to wheel-spoke sensor to improve the testing precision of main test force and control the fracture accuracy of specimens.
4. We select high-precision grating measuring instrument to measure cupping value. In terms of measuring precision, it can accurate to two decimal digits.
5. The outward appearance of machine has great transformation. Old and heavy appearance has turned into powder coatings and is concise and elegant.