Low-temperature Test Chamber
CDW-100Y Pendulum Impact Testing Low-temperature Chamber(Low-temperature tank)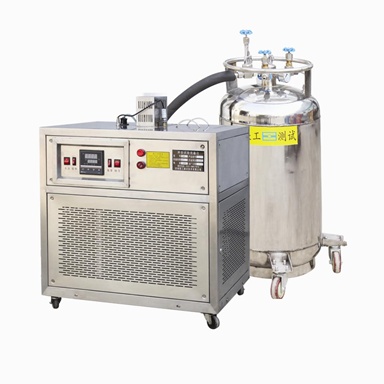 1. Usages and characteristics:
CDW-100Y-type low-temperature impact testing meter is the refrigeration equipment of the latest research and development in accordance with cooling requirement of GB229-2007 "metal Charpy notched impact test method". This equipment used liquid nitrogen technology, the use of the principle of heat balance and mixing method of circulation to achieve uniformity of the sample auto-cooling and temperature, to fully meet the temperature indicators of national standard GB229-2007 and American standard, European standard ASTM E23 - 02a, EN10045, ISO148, ISO83 and other stipulated specifications related in the standard of temperature control index of the provisions.
The equipment is simple, convenient and efficient for working, which is the ideal equipment of specimen cooling and insulation for low-temperature impact testing. External shell is made of stainless steel .It has more good low temperature resistance and its Insulation performance is more reliable. At the same time, it can also be used for other low-temperature detection and testing.
2. Main technical parameters:
1. Temperature range: room temperature ~-100℃(room temperature: ≤ 25 ℃)
± 0.5 ℃ (under the condition of compressor refrigeration)
± 2℃
(
under the condition of liquid nitrogen refrigeration)
3. Cooling speed: room temperature ~ 0 ℃ about 2.0 ℃ / min
0 ℃ ~ -20 ℃ about 1.5 ℃ / min
-20 ℃ ~ -60 ℃ about 1.0 ℃ / min
-60 ℃ ~ -80 ℃ about 0.7 ℃ / min
-80 ℃ ~ -100 ℃ about 2.0 ℃ / min
(Notes: Room temperature ~ -80 ℃ for compressor refrigeration
-80℃ ~ -100℃ for liquid nitrogen refrigeration.When test(Room temperature ~ -80 ℃),we only need to open Compressor refrigeration switch.When test(-80℃ ~ -100℃),we only need to open dintor, not to open Compressor refrigeration switch.)
4. Maximum dimension of the external form: 700 × 600 × 800mm (length × height× width)
5. Digital timer: 1 minute ~ 999 minutes, 1 minute resolution
6. Cooling medium: ethanol or other ice-free liquid (under the condition of compressor refrigeration)
Liquid nitrogen (under the condition of liquid nitrogen refrigeration)
7. Stirring motor: 100W
8. Working power: 220V ~ 240V, 50Hz, 3kW
9. Operating temperature: ≤ 25 ℃