Wire Torsion Tester
EZ - 10 Metal Wire Rod Torsion Testing Machine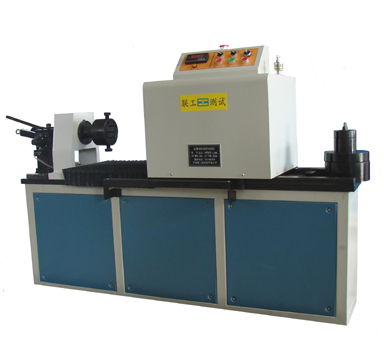 1. Range of application
EZ - 10 metal wire rod torsional testing machine is a new digital display count that our factory developed.
It mainly used for Φ 1.0 ~ Φ 10.0 metal wire rod torsion test. Used for testing the ability of the metal wire bearing plastic deformation and displaying wire surface and internal defects in one-way or two-way torsion. It provides reliable measuring method for the production and using unit of wire.
2. Main technical parameters and working conditions
2.1 Coaxial tolerance of the two chuck < 0.4
2.2 Straightness of removal guide rail within the length scope < 0.2
2.3 Maximum distance of two chuck≥550
2.4 Revolution speed 30 R.P.M. 60 R.P.M.
2.5 Hardness of clamp mouth HRC55 ~ 65
2.6 Weight tolerance + 0.01%
2.7 Working noise of tester < 70db
2.8 Environment and working conditions
a. Temperature 10 ℃ ~ 35 ℃
b. Placed in a stable basis, the levelness <0.2‰
c. Placed in no vibration environment
d. No corrosive medium around
e. Power: three-phase four-wire type 380Ⅴ + 10% 50HZ