LCD Display Cupping Tester
GBS-60 LCD Display Semi-automatic Cupping Testing Machine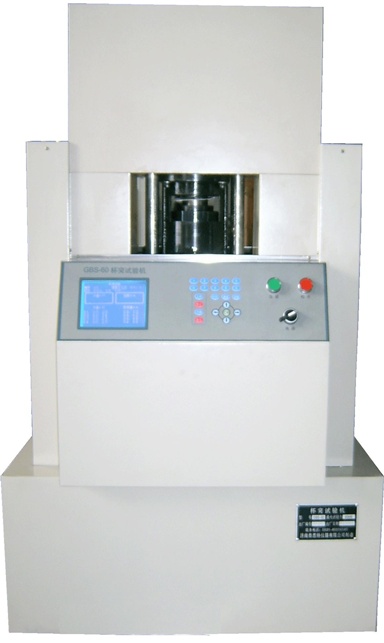 Functional characteristics:
1. Pre-intensified force (10-25KN), read and calibrated
Through instrument intuitively.
2.Liquid crystal screen appears in the real time in the process of cup penetration experiment. In the range of 600N ~ 60KN, the accuracy of force value force is one-level accuracy without exception. 3. Cup penetration value (the maximum deformation value of the steel cup penetration) can show the real-time LCD liquid crystal screen display. The original model is the LED digital tube display. 4. Force sensors, signal resolution of ≥ 1 / 100000, grating displacement measurement, optical resolution is up to 1μm; 5. Testing speed rate 2 ~ 100mm/min is arbitrary setting of steeples speed regulation. After ending the trial, it can be automatically restored to be the waiting for testing state, and have convenient operation. 6. It shows the cup penetration testing force and cup penetration value. Implementation for GB4156-81 "Metal Cup penetration test method"
Main technical parameters:
1. Plate thickness: 0.05 ~ 2mm (high-precision sensors, can achieve ultra-thin sheet testing)
2. Plate width: 90-100mm;
3. punching stroke, 40mm;
4. stepping up piston stroke 40mm.
5. Stamping load 60kNmax.
6. Maximum clamping load of 25kn.
7. The resolution ratio of cup penetration value: 0.01mm
8. Mold specifications of cup penetration test: ● standard red header: φ20 ± 0.05mm ● standard pad mode aperture: φ33 ± 0.1mm ● standard fixed-aperture mode: φ27 ± 0.05mm
9. Special orders can provide non-standard mold.
10. Hydraulic oil: N46 No. hydraulic oil (typical gas stations can buy into).
11. Dimension: 700 × 360 × 1700 (mm)
12. Power supply AC380V.
13. Weight: 500Kg.