Specimen Cutting Machine
Q-2 Cutting Machine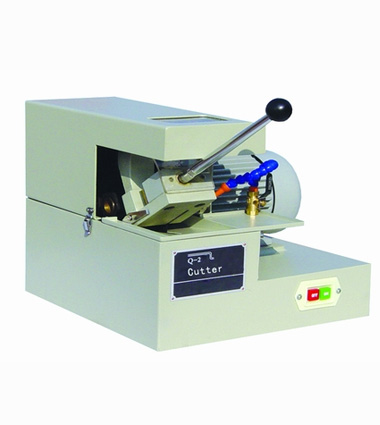 Taking advantage of rolling sheet wheel with high speed, Model Q-2 Metallography specimen cutting machine can obtain metallography specimen and it can be widely used to cut various metal materials in metallography laboratories. The equipped cooling system can clear up the heat produced during cutting so that it will avoid the metallography structure deforming of specimen because of heating fluence. Besides various metal materials, this machine can also be used to cut other non-metal material such as plastic, rubber hose etc.
Technical Parameters:
1. Max. cutting diameter: Ø30mm
2. Sand wheel specification: 250 x 2 x 32mm
3. Sand wheel rotating speed: 2800 rpm
4. Power supply: 380V three phases, 50Hz.
5. Motor: 1.1 KW
6. Dimensions: 65 × 45 × 40 cm
7. Net weight: 60 Kg