Pendulum Semi-auto Impact Tester
JB-300S/500S Digital Display Semiautomatic Impact Testing Machine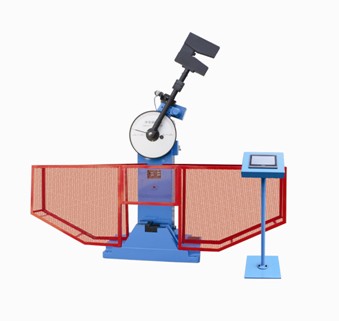 Usage and Characteristics
Pendulum Semiautomatic Impact Testing Machine is used to test anti-impact performance of metal material under dynamic load to judge the quality of material under dynamic load. This machine is semiautomatic control testing machine, easy to operate, high effective. Raising pendulum, impact and pendulum dropping are all controlled by electrical equipment. It can make use of spare energy to raise pendulum automatically and be ready for next impact test. It is developed strictly according to GB/T3808-2002and does impact test with metal material according to GB/T229-2007.It also can satisfy American standards and European standards,like ASTM E23-02a,EN10045,ISO148,ISO83 and other international relative standards.
This impact series of testing machines adopt large torque clutch and high-power motor to make the equipment more stable and no vibration when taking pendulum and releasing pendulum.

Main technical parameters
Clutch torque force

630N.m

1000N.m

Impact energy

300J

150J

500J

250J

Value of every grid

2J

1J

5J

2.5J

Moment of pendulum

160.7695N·m

80.3848N·m

267.9492N.m

133.9746N.m

Impact speed

5.2m/s

5.4 m/s

Distance between pendulum center and impact point

750mm

800mm

Pendulum Preparing Angle

150°

Span of Specimen Seat

40mm

End face radius of specimen seat

R(1.0~1.5)mm(1mm is special order)

Radius of impact knife

R(2.0~2.5)mm(8mm is special order)

Specification of specimen

(10,7.5,5)×10×55mm

Supply and power

~380V 50Hz 250W

~380V 50Hz 380W
Characteristics of JB-300S/500S Series Semiautomatic Digital Display Impact Testing Machine
The test value can be showed on the LCD screen, which is to present the difference of energy before impacting and after impacting on the degree set, through which we can gain the absorbed skill, micro-printer can print the impact toughness value for experiment report. What the host of this machine adopts casting steel material can make the equipment run steadily at the whole process of test and get more accurate result.
This machine adopts PLC control, LCD digital touch screen and has high efficiency. After thrust the sample, it can make use of spare energy to raise pendulum automatically. It is applicable for the laboratories, which does continuous impact tests as well as metallurgy, machinery manufacturing industries which do large quantities of impact tests.