UV Notch Broaching Machine
CSL-A Impact Specimen Gap (single knife) Manual Broaching Machine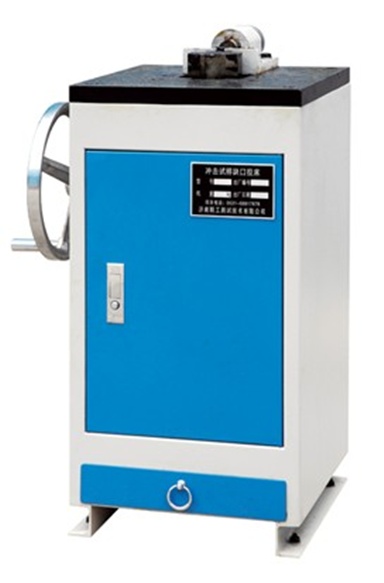 Usage and Characteristics
Impact specimen gap broaching machine is necessary and special equipment of metallurgy, pressure vessel,vehicles and vessels, construction machinery manufacture industries and departments of science&research.So far this kind of machine includes impact specimen gap manual broaching machine(single knife),impact specimen gap power-driven broaching machine(double knives), impact specimen gap power-driven broaching machine(three knives), impact specimen gap hydraulic broaching machine(double knives),and so on.This product satisfies GB/T229-2007which also can satisfy American standard, European standard like ASTM E23-02a,EN10045,ISO148,ISO83 and other international standards.
Main technical parameters
Gap: V2 type (GB/T 229-2007), U2, U3, U5 type (GB/T 229-2007)
(2mm type is with machine, 3, 5mm type is alternative)
Journey of Broaching: V2,U2,U3 350mm
U5 400mm
Size of Specimens: (10,7.5,5)×10×55mm
Dimensions: (430×400×770)mm
Weight:100kg
Advantages
1. CSL-A machine is a manual structure and it has the advantages of manual operation, without power, low cost and is applied to departments or schools whose testing volume is smaller.
2. This machine makes use of the principle of one time molding.Its processing identity is very good. It can assure gap 100 percent qualified.
3. The broaching knife is made of imported W18Cr4V material. Its hardness is high and its wear-resistance is excellent. Each broaching knife can process up to 20,000 specimens.
4. You can select one of V-type or U-type broaching knifes according to your own needs. More flexible and convenient.