WEW Computer Screen Hydraulic UTM
WEW-1000B Series of Computer Screen Hydraulic Universal Testing Machine(Six Column)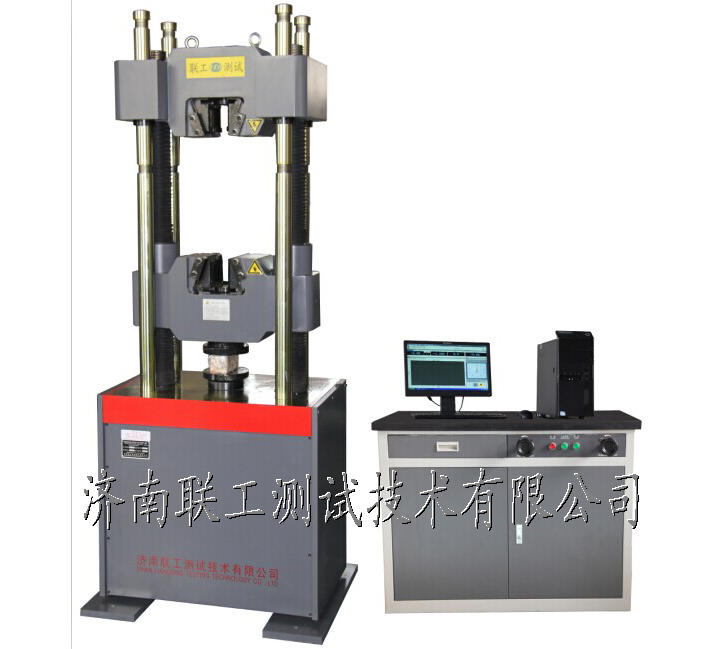 ⅠMain purposes:
WEW-1000B series of computer screen hydraulic universal testing machine is mainly used for testing of metal materials,
nonmetallic materials, mechanical properties , it can meet the latest national standard for users' testing and data analysis, and widely used in scientific research institutes, tertiary institutions, industrial and mining enterprises, technical supervision, commodity inspection studying department.
ⅡFunctions and features:
1. The use of manual controlled hydraulic valve, driving precision tanks, displacement, deformation control, the completion of pulling, pressure, bending, shear test, satisfy with the national standard requirements of GB/T228-2002 "metallic materials at room temperature tensile test method "GB/T7314-87, etc.
2. The adoption of fuel tank under the rear-mounted, chain drive, hydraulic clamping.
3. The use of the brand computer to complete the course of the experiment testing parameter settings, data acquisition, processing, analysis, storage and display, including the upper and lower yield point, tensile strength, fracture strength, elastic modulus, elongation of the various points, δ0.2 and so on, control measurement precision and accurate.
4. Equipped with special universal testing machine card and software, dealing with test data statistics, to print a variety of test curves and reports, with curves of amplification, comparison, features intelligent reading times.
5. Built with a strong test database, can complete preservation, inquiries, call at any time.
6. Using high-precision amplifiers, 4 or 6 file implementation measurement, automatic switching, accurate and reliable.
7. with self-test features and improved protection.
Ⅲ Main technical parameters
| | |
| --- | --- |
| Model | WEW—1000B |
| The Maximum test force (KN) | 1000KN |
| Measurement range | 2%—100%FS |
| | 0.01KN |
| Test force value relative error | Better than the shown ±1% |
| Deformation Resolution | 0.001mm |
| Max. Tensile space | 800mm |
| Grip manner | Hydraulic grip |
| Grip diameter of round specimen | Φ13-40mm |
| The thickness of flat specimen grip | 0—30mm |
| Max. gripping width of flat specimen | 80mm |
| Upper and lower platen size (mm) | 204×204mm |
| Bending test pressed rolling distance | 450mm |
| Piston Stroke | 250mm |
| Power | 380V,50Hz,2.5kW |
| | |
| | |
| | |