Wear and Abrasion Tester
LG-XD-MSM Brake Pads Constant Speed Friction Test Machine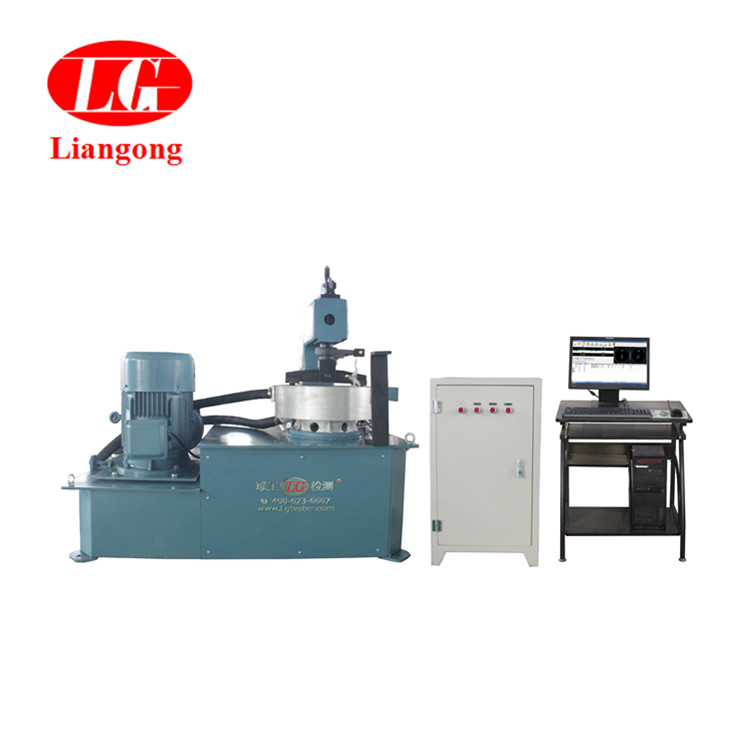 1. Usage:
The testing machine is mainly used in powder metallurgy, friction coefficient of asbestos, asbestos free friction material and wear rate.
Test. Standard: brake linings for GB5763-2008 car; car GB/T5764-1998
Clutch facings for; asbestos friction linings for industrial machines GB/T11834-2000; QC/Y227.1-1997.
Car and moped brake friction performance test method.
2.Working principle description (process)
The basic structure and main parameters of the model by GB/T 5763 - 2008 provisions. AC motor by V type belt drive a vertical shaft, the upper end of the shaft is provided with a disc, on the surface of friction surface. The specimen clamping in the loading arm, lever via vertical axis down load, load size by weight decision, computer control to complete the whole test process.
3. Main Technical Parameter
Temperature: temperature measurement range of 0 ~ 350℃, the measurement accuracy of 1 ℃, 5 ℃of measurement error.
The friction force measurement range: 0 ~ 2000N, measurement accuracy of 1.0N, 10.0N. measurement error
Friction disk revolution: 480~ 500r/min, the measurement precision of 1 rpm, 1 RPM measurement error.
Power: host 7.5kW, heating pipe 4.5kw, the total power of the fan: 120W, 12.12kw.
Friction disc: material for gray cast iron HT-250, Brinell hardness 180~220HB, pearlite.
Sample: area of 25mm * 25mm, thickness 5~7mm, 2pieces
Friction radius: R=150mm
The barotropic force: 0.49Mpa, 0.98Mpa
Loading weight: 1.25kg (1 pc) 2.5kg (3 pc)
Size: 1600 x 1000 x 1400mm main machine
Control cabinet: 800 x 600 x 1000mm
Weight: About 1000kg
Main control device:
Computer:Lenovo
Printer: Hp
The sensing element force sensor - range: 0 ~ 200Kg, level 0.05, the nonlinear error of 0.05%F.S
Thermocouple - 0 to 400 DEG C, E index.
Proximity switch - E4-D5NK
4. Features
Computer control, automatic measurement, automatic calculation of friction speed, the friction coefficient, wear rate;
Automatically and accurately control the test temperature of computer;
Select, English operation interface;
Automatic drawing curves and print in English and test results.