Room-temperature Auto Impact Tester
JBS-300Z/500Z Digital Display Room Temperature Automatic Impact Testing Machine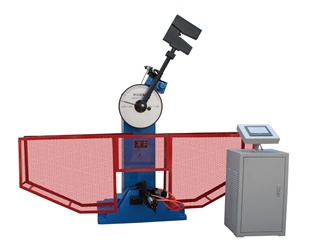 Main technical parameters
Clutch torque force

630 N·m

1000 N·m

Impact energy

300J

150J

500J

250J

Value of every grid

2J

1J

5J

2.5J

Moment of pendulum

160.7695N·m

80.3848N·m

267.9492N.m

133.9746N.m

Impact speed

5.2m/s

5.4 m/s

Distance between pendulum center and sample center

750mm

800mm

Pendulum Preparing Angle

150°

Span of Specimen Seat

40mm

Jaw fillet of specimen seat

R(1.0~1.5)mm(1mm is special order)

Fillet of impact blade

R(2.0~2.5)mm(8mm is special order)

Included angle of impact knife

30°

Thickness of impact knife

16mm

Dip angle of specimen seat

11°

Specification of specimen

(10×10、7.5、5×55)mm

Speed of delivery

≤4S

Capacity of specimen box

10

Dimension (LxWxH)

(800×500×1275)mm

Power Supply

~380V 50Hz 250W

~380V 50Hz 380W
Advantages
1. The host of this machine adopts casting steel material, which can make the equipment run steadily in the whole process of test and get more accurate result.
2. Transporting structure of our impact testing machine adopts pneumatic and automatic transporting samples to overcome the difficulty of centering specimen every time, the whole process only needs less than 4 seconds, to improve working efficiency.
3. The host is PLC automatically control, which has high stability and strong anti-interference ability.
4. Computer control and all the result of test can be saved in computer, be printed and be uploaded.