UV Notch Broaching Machine
CSL-B Impact Specimen Gap(three knives)Power-driven Broaching Machine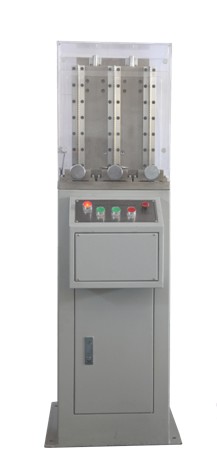 Usage and Characteristics
Impact specimen gap broaching machine is necessary and special equipment of metallurgy, pressure vessel,vehicles and vessels, construction machinery manufacture industries and departments of science&research.So far this kind of machine includes impact specimen gap manual broaching machine(single knife),impact specimen gap power-driven broaching machine(double knives), impact specimen gap power-driven broaching machine(three knives), impact specimen gap hydraulic broaching machine(double knives),and so on.This product satisfies GB/T229-2007which also can satisfy American standard, European standard like ASTM E23-02a,EN10045,ISO148,ISO83 and other international standards.
Main technical parameters
Gap: V2 type (GB/T 229-2007), U2, U3, U5 type (GB/T 229-2007)
(2mm type is with machine, 3, 5mm type is alternative)
Journey of broaching: V2,U2,U3 350mm
U5 400mm
Broaching speed: 2.3m/min
Specimen size:(10,7.5,5)×10×55mm
Way of driving: ball screw drive
Broach material. W18Cr4V
Dimensions: (570×350×1250)mm
Working motor: 380V 50Hz 0.9kW
Weight: 190kg
Advantages
1.It adopts high precision ball screw drive and linear guide track for support. This structure ensures stability of the broach and geometric precision of gap.
2.It makes use of the principle of one-time-molding. Its processing identity is very good.It can assure gap 100 percent qualified.
3.The broaching knife is made of imported W18Cr4V material. Its hardness is high and its wear-resistance is excellent. Each broaching knife can process up to 20,000 specimens.
4. It is equipped with three-pole and processes three specimen gaps simultaneously with three 'V' type or three 'U' type.(deep 2mm)(also two 'V' and one 'U'type or two 'U' and one 'V' type), this product satisfies national standard 229-2007which can impact three specimen in a set of test, it can ensure unitarity of specimen gap.
Whether processing 'V' or 'U' notch, the pole do not need changing. Processing specimen gap only needs 10 seconds, easy operation and reliable.